Gifts shop business possess a high demand as well as generates a significant amount of revenue all over the world, whether it is Australia, United States, India, Canada, UK or any other country, this business can expect to get higher returns on investment. On a global level, the gift shop business has witnessed a striking growth in the past decade because of the extension in the customer base and also an increase in application for inventive products. The gift shop industry mainly consists of personal as well as corporate gifting.
Professional market research analysts of Technavio studied that the personalized gifts market is growing and will continue to grow steadily during the next 4 years and post a CAGR of above 9% by 2021.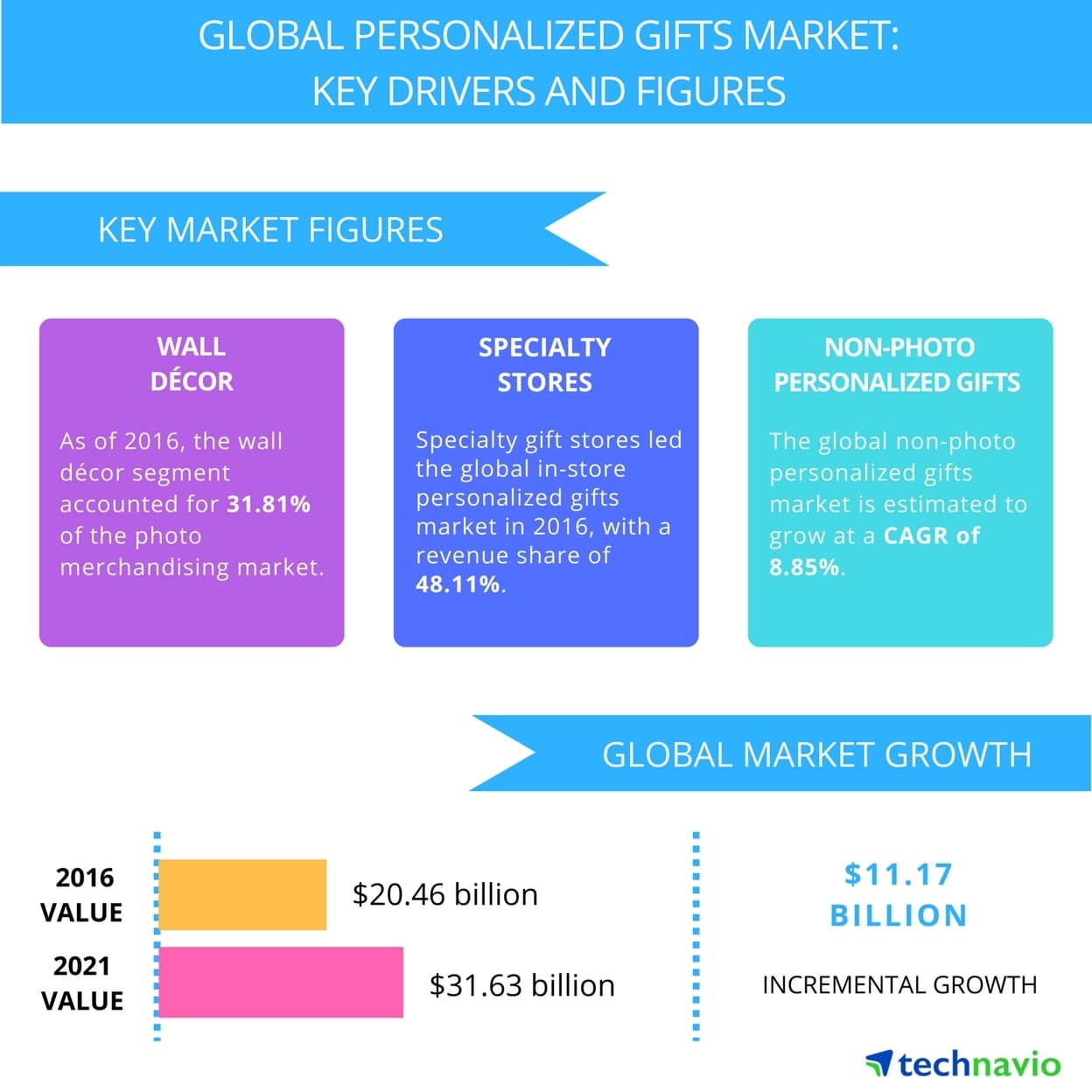 This research analysis recognizes the availability of technological advancements and innovative gifting solutions as one of the chief growth factors for the market of customized gifts. Since service offerings, product innovations, and technology upgrades play a vital role in attracting many customers, vendors are very much focusing on providing innovative solutions.
I personally recommend you to go through the basic steps of starting a business with this article so that you don't have any question unanswered.
Decide Niche
Gift shops generally retail a variety of gifts and novelty merchandise as well as souvenirs to their market. The industry is rising because more people are choosing to look for gifts which are unique or can't be easily found in merchandise & discount retail stores. These shops stock an array of items because there are several niche ideas available for this industry for individuals looking to stand out, therefore it is important that you carry out thorough research with the aim to find out existing voids in the industry which are lucrative and will control traffic for your target marketplace.
Here are some of the niche ideas for you choose from:
Card and gift shop
Artisan gift shop selling arts and crafts
Flower Bouquet
Ethnic gift shop
Holiday store
Gift Boutique
Art and Craft Gift
Personalized gift shop selling items that can be personalized e.g. for weddings
Souvenir gift shop
Specialty gift shop selling gifts for individuals who refer to a particular group:
Based on interests (for example; gifts for pet owners, science buffs, nature lovers, etc.)
Based on demographics (for example; gifts for a particular age group, religion, gender, etc.)
As long as you are having the desire, you can become a successful gift shop owner. There is no special education or any kind of experience needed to get into this business and succeed.
You can read how Tanya Mittal is earning Rs4-5 lakhs per month by making personalized gifts if you are planning to choose this niche.
Budget Needed
In order to start an awesome gift shop business, you will need to spend a significant amount of money. If you are making your mind to sell your products on both online as well as offline platforms, then you will need a little bit more budget than the budget needed only for an offline business. However, you will be having more potential to earn if you are selling on both platforms.
The average budget needed to start gift shop is illustrated below:
Rent- Rs 10- 20K (Approx.)
Insurance- Rs 10,000 (Approx.)
Shop Furniture- Rs 50,000 (Approx.)
Computer/Printing Equipment/Software- Rs 50,000 (Approx.)
Licenses and Permits- 20,000 Rs.
Opening Ads and Promos – 50,000 Rs. (Approx.)
Start-up Inventory – Rs 1,00,000 (Approx.)
Cash Required – Rs 10,000 (Approx.)
List of Documents Needed for the Gift Shop
Legal documents are necessary if you want to avoid troubles with the legal authorities. The list of documents may vary for different regions and countries; you will need to visit the city council in your area or authority office to get the exact information. Here I am sharing a general list of legal documents needed for this business:
Certificate of Incorporation
Business License and Permit
Operating Agreement for LLCs
Business Plan
Sales Tax Permit
Insurance Policy
Tax Identification Number (TIN)
Employer Identification Number (EIN)
Contract Documents
Insurance Policies Needed
As you will be dealing with many inventories, it very imperative that you ensure your stuff so that in case of any disaster- either natural or manmade, you will not need to bear the risk.
One thing which can be much challenging when thinking to purchase insurance policies is the selection of a suitable insurance policy which will cover all you desired.
Some of the general insurance policies that you can refer purchasing when looking to initiate your gift shop include:
Insurance for General Liability
Insurance for Commercial Property
Insurance for Workers' Compensation
Insurance for Product Liability
Financing the Gift Shop
Financing is another essential thing to do when starting a business. Sourcing for finance to start a gift shop business can be a very tricky task, which is why it is generally recommended to have a comprehensive business plan because this is the best approach through which you can convince your targeted investors of how serious and dedicated you are for your business.
Here are some financing options that you can explore when desiring to start your business:
Sourcing for soft loans from friends and family members
Applying for a loan from a commercial bank
Sourcing for startup capital from an external investor
Choosing a Suitable Location
The location where you want to start your gift shop business should be carefully chosen because this will have a great impact on your business success especially when you are going with brick and mortar business. Most gift shops are located in areas where there are chances to have many tourists or in metropolitan cities where you can get maximum footfall. If you can't choose the places where tourists like to visit, then you can prefer any part of town which is well populated and contains lots of traffic. Whatever location you conclude on, make sure that your inventory, as well as retail price, are customized to fit well with the general income of the people in that region. So either choose the location as per the pricing of your products or price product as per the location. When choosing the location for a shop, consider the following:
Try to get 3 sides open shops or atleast 2 sides open shops.
Wall of the shop should be made of glass so that customers can view it from distance.
The name board of the shop should be bright in color with good lighting.
If you are choosing a shop which is inside a mall, your shop should be visible from the main entrance.
Prefer shop which is on the ground floor, if it is not possible, then look for the shops that are close to stairs, lift or elevator.
Online Selling Options
If you want to sell your gift products online, there are so many e-commerce sites that can help you out. You can also make your own website to sell your products, but for this, you will need to invest a lot of money for web development, SEO, and other online marketing strategies. Selling on e-commerce is always preferable and recommended for such kind of business. You can even sell through online stores like Shopify. Here are some of the best sites where you can post your products to sell stuff online:
Amazon
eBay
Flipkart
Etsy
Business Roadmap
After doing these all, you need to plan a business roadmap, which acts as a core of the business and incorporates the best possible ways to run the gift shop. Here are several things to include in your business roadmap:
Customization- Customers will like your services if you will offer them what they exactly want. Offer the best customization facility to customers by tying the bond with professionals who can give attractive and as-described customization facility. Also, try if you can do customization by yourself.
Gift arrangement in Advance- You can increase your business opportunities by arranging gifts for particular occasions in advance. For example, if Valentine's day is arriving in a month, prepare and arrange gifts suitable for that occasion in advance so that you can earn comparatively more in that duration. Similarly, you can do preparation for other occasions and festivals such as Christmas, Diwali, New Year, etc.
Inventory- Inventory management must always be controlled and monitored. As your business develops, do research on the software program for management of inventory.
Price Setting- In order to get the best sale results and profits, effective pricing is very important. It is significant to set prices that magnetize customers and are pretty competitive. It should also be high enough to include all expenses and costs to raise profits.
Payment Methods- What payment methods will be used? Cash, debit, credit cards, and even local checks could be accepted. If you prefer to allow the personal checks and card purchases, just get the needed equipment.
Hiring Employees – if you have a lot of workloads, it is needful to hire employees to carry out the everyday operations. You can hire them by posting advertisements, from referrals or through recruitment agencies.
Partitioning- Make partitions for different varieties of products. If some of your products are showpieces then put them all in a single partition, if some of your products are related to photography then make another partition for it. In this way, there should be different partitions for different varieties of stuff.
Combo Packages- Create suitable combo packages to increase your sale. For example, you can make a package for a bouquet, chocolate, and a card or an ethnic necklace with earrings and ring or bracelet with chocolate, all with the reasonable rates, so that customer buy it with any single thought.
Shop Security- Security of your shop is also important. Explore theft avoidance technology, such as an alarm system or closed circuit security cameras to ensure that your gift shop is secure.
Marketing and Advertising
Marketing is a very imperative aspect of a business as it is the major way with the help of which business produces revenue that will sustain as well as grow. Apart from the revenue generation, business awareness created amongst the potential marketplace as well as competitors.
Here are some marketing strategies and ideas for this gift shop business:
Contact companies for corporate gifting.
Approach college students to get quick sales.
Use Adwords to Promote your gift items
Give discounts to people who are referring new clients to you.
Post your products on top-rated e-commerce sites to make it popular
Advertise your business through email marketing
Take the help of the SMS campaign.
Content marketing is also a major thing that you can do, write SEO friendly blogs and articles for your business and gift items.
Use your social media platforms such as Twitter, Facebook, Pinterest, and Instagram to make awareness for your store. Advertise your new items on social media.