A self-made entrepreneur, a motivational speaker, a beauty pageant winner, and the list just gets bigger and bigger for Tanya Mittal, a 25 year old small-town girl who dreams of making everyone around her proud. She is the perfect example of 'beauty with brains' who has, time and again, defied all odds and established herself as a career-oriented woman at such a tender age. She started her handicraft business when she was only 19 years old with minimum investment. And today, the same business has reached over 5 lakh per month. If that wasn't enough, she also won the 'Miss Tourism India 2018' and 'Miss Tourism Asia 2018' pageant at the age of 23 and led us to believe that anything is possible if you have the right intentions and a clear goal in life. Tanya had a fascinating stint at Ted Talks at such a young age. She has already been on Ted Talks thrice and is on her way to making her 4th appearance soon.
Don't live merely for the sake of living. Realize your ambitions to help yourself, and others.

Tanya Mittal, Founder of HandMadeLove
Early Life
Tanya has always been a creative person whilst also having a keen interest in sports. During her school days, she was a National level Volleyball champion and also a woman car race winner. Hailing from a business class family, pampered childhood was always an integral part of her early life. It was only once she started to live in a hostel during her college days, that a sense of responsibility came to her and gave a new direction to her privileged life.
She believes her hostel life wasn't as easy as she had envisioned. Stolen projects, lack of trustworthy friends, extremely hectic schedule, and stringent submission deadlines added to her woes. Acclimatizing herself to a new environment gave her anxiety and by the end of 3rd year, she started to develop signs of depression. Being so bored of her routine, she really wanted to discover ways to keep herself occupied and happy. She always knew her potential well and didn't want her abilities to get restricted behind the four walls of the hostel. Her aspirations were not meant to be constrained by what most people were doing and she always wanted to honor her uniqueness. She knew she would not fit into the 9-to-5 job life and she was meant to be an entrepreneur from the very beginning.
Nothing in life comes in easy and Tanya's personal as well as entrepreneurial journey too has seen its fair share of ups and downs. But like always, she has been able to sail through all the hardships and come out stronger than before.
Inception of HandMadeLove
Tanya Mittal is the proud owner of a gifting company, HandMadeLove that she set up in 2014 at the age of 19 with only Rs. 500 in her pocket. And today, she has come a long way in not just establishing a successful business, but has also given back to society to the best of her ability.
Starting HandMadeLove was never a plan for Tanya. But she was sure that she had to do something that makes her happy, no matter what society says or thinks of her. Also, working under someone else was never her cup of tea. A friend of hers gave her the nudge to give her creativity a professional ground and thus began the journey of HandMadeLove.
It's ok if you aren't designed the way society has envisioned you to be. You can still be the best version of yourself.

Tanya Mittal
She further adds that coming from a small town, she has had a secretive professional life. In fact, she started HandMadeLove from her bedroom without letting even her parents know as she knew they would not take her idea of making cards and gifts seriously. "It's funny, yet true to think that they used to keep telling me that no one is going to marry me if I sell greeting cards", she says.
She first made an Instagram page with the username 'Handmadeloveofficial' and posted a few pictures of her previously created craft items. Her page only had 8 followers at that time but she managed to pull off 2 to 3 orders for the upcoming Valentine's day. Her monthly turnover grew significantly in a short span of 8 to 9 months and she also had to hire creative staff to cater to the increasing number of orders. Today, her page has over 120k active followers and she has already delivered 10,000 items across the globe. She has also added a few resellers and gives them 20% of the margin on every sale.
She admits that her work life is so hectic that she starts her day at 5 am and works non-stop for up to 18 hours straight. So, 'me-time' is still something she fancies and dreams to have someday. But right now, she only wants to be able to inspire people around her and support those who have dreams in their eyes but face some hurdles in making big in life. CA
Beauty Pageant
During her school days, not only was she bullied but was also called names like 'ugly'. And these harsh words kept haunting her for a long time, that even being rich wasn't making her happy. It is sad to think that the society that you live in has created some preconceived notions about how a woman should look like, and expect all women to be fair, slim, and visually appealing.
With these thoughts dwelling in her mind, she decided to enroll herself in a beauty training institute. And there she worked tirelessly on herself to be the best version of herself, both inside and out. While she managed to shed off those extra kilos today, what she has managed to gain is tremendous confidence. Six months down the line, her pictures on Instagram got attention and she was nominated for Miss. Tourism India.
She won Miss Tourism India 2018 and Miss Tourism Asia 2018 pageants held in Lebanon. After her win and upon her arrival back home, she was welcomed with open arms. Even the then President of India, Late Shri Pranab Mukherjee, applauded her at an event and that became a breathtaking moment for her.
It led her to follow her path and realize that there is so much more to life. It was only after she won the pageant and wore the crown that she realized how surreal that moment was and it gave her so much confidence that is unimaginable in so many ways. Such was the impact of the words of society on her that she dedicated her entire journey only to prove what a woman with a strong will can achieve.
Impact of Covid-19 on Her Business
The impact of Covid-19 on her business has been huge. Her customer base changed drastically as people are no longer buying expensive gifts and celebrating anniversaries and birthdays like they used to. Spending 25-50k for them on gift hampers isn't possible during these times of pandemic. Her sales went down to 30% that concerned her so much because even with sales going down, the expenditure of the business is still the same. And as per government guidelines, one has to still pay their staff, even if the business is at a standstill. Besides, in the gifting business, she wanted her staff to be present physically as working from home wasn't an option in this kind of business. This gave her an opportunity to devise a new strategy and she came up with a virtual gifting concept. She, along with her staff of artisan, curated small gifts for Rs. 100 or 200 that people could send to their loved ones, right from the comfort of their homes. The idea was a hit and the sales surpassed and recovered the losses from the previous months.
"So, I am the kind of person who doesn't take downfalls so easily in life, if somewhere I know I am failing, I will try to cope up and sail through the difficulties. I am the boss."

Tanya Mittal
Stint of Improving
Being desirous of knowledge, learning something new came hand in hand with every day's sunrise. However, pedagogy feels relevant only when I get to know its logic, and anything without a logical ground becomes too heavy for me to digest.", says Tanya Mittal.
Tanya has always been on the lookout for learning new skills and Even during the lockdown, she took the opportunity to expand her horizon and learn the art of "Cooking at home". This was also the first time, in the last 4 to 5 years that she took a pause, introspected her life, and relaxed her mind and body. She also took up 29 new courses, nutritionists being one of them. She liked to do things out of the box and this nutritionist course was just another feather in her cap. She is well-versed in arts and crafts and already has around 60 courses in her kitty. She firmly believes in upgrading her skills and having fun all the way, whilst learning new things. For her, knowledge is extremely important and one must continually upgrade our skills to keep the ball rolling.
Philanthropy
Tanya strongly feels that as humans, we have somewhere disrupted the balance in the environment, and striving for that right balance is the need of the hour. She is the associate director of Bliss NGO that works for the social welfare of society. Even during her college days, she used to visit nearby villages to help people to the best of her capacity.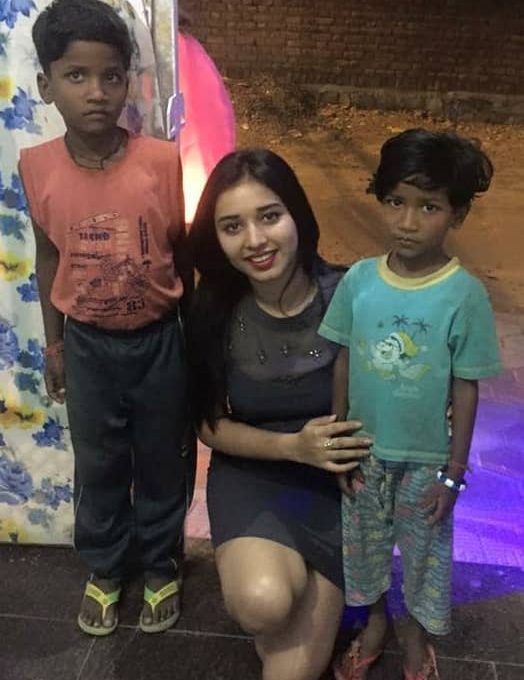 This lockdown gave her the chance to adopt one elephant and around 100 cows in Gwalior. Her zeal to do something good isn't just confined to animals and nature. She is the foster mother of 2 kids and takes care of all their educational needs. Right now, there is too much happening on her plate. She is also associated with a dog NGO in Delhi and has adopted a village named Tikoli near Gwalior for providing sanitary napkins to the women there. Somewhere, she feels that doing these noble deeds is way better than surrounding oneself with luxury and expensive possessions.
Settling With Husband
Marriage is a common notion in Indian Society and like every other girl her age, she too has to face the question of 'settling down' several times a day. She laughs out saying that every morning, her parents confront her with 100s of bio-data of prospects and that they have labeled 25 as the 'expiry date' for her to get married. However, with time, she has learned to evade the question of her marriage tactfully. She either chooses to remain silent or shower her parents with her awards and achievements, only to take their minds off from the dreadful matter of marriage for a few days, if not longer. For now, she only wants to focus on her venture and philanthropic deeds and is in no rush to get married.
Awards and Achievements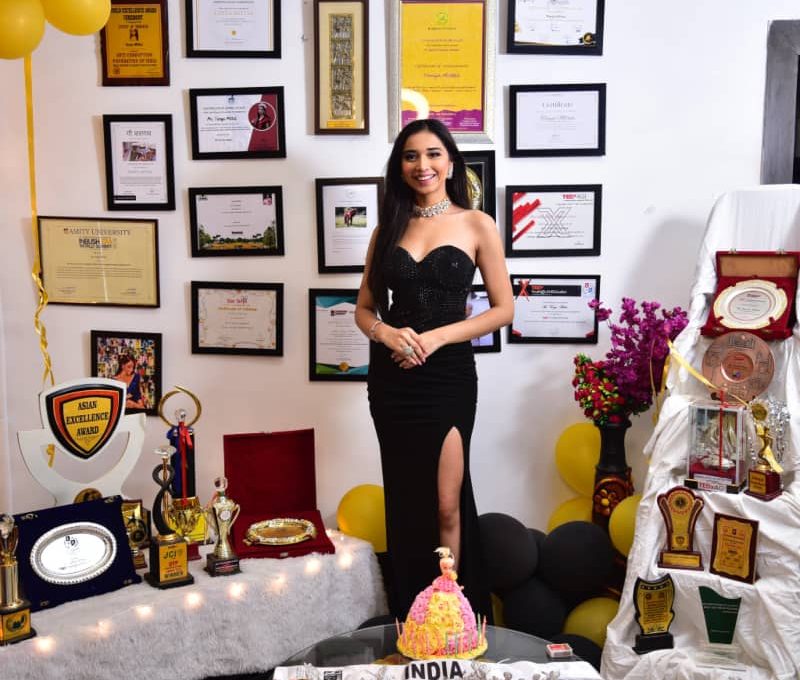 Tanya has won several accolades over the past few years:
Miss Tourism India 2018
Miss Tourism Asia 2018
Youngest Woman Achiever award by Dr. Shashi Tharoor.
Nari Shakti Award.
Asian Excellence Award by the Indian Corruption Foundation of India.
Amity Corporate Excellence Award
Outstanding Young Person of Gwalior award by Yashodra Raje Scindia.
Words of Wisdom
Tanya has learned throughout her entrepreneurial journey that it is not an easy road for women entrepreneurs to take and they have to prove their potential at every step. Society still perceives women as someone who would only restrict themselves to the daily grind of a 9-to-5 job and for most of them still, women are nothing more than eye candy. She says, "Taking care of your own self is very crucial; you can only make the best out of your capabilities when you're satisfied with what you achieve working hard each day of your life. Hard work always pays off. Believing in your dreams, setting your happiness as the top priority in your life can make any person an achiever. I never let tears shed off my eyes, as to me my smile is precious. I never feel tired, even after working 18 hours a day, as this is something that garners me reasons to felicitate and stay happy. I am appreciated by thousands, each day I follow my passion and that is something that makes me lucky. Every day is a goal to achieve, take care of yourself, pamper yourself and things will fall in place no matter what life brings to bother you."