If you are planning to start a driving school business then it is great it because we can see a huge demand for driving schools all over the world. Here is the data that will show you how different countries are benefiting from driving school business. According to the research done by IBIS World, the driving school businesses in the United States produce the annual revenue of around US $11 billion combined with tutoring business and provide services to about 322,809 individuals. If we talk about India, here is the statistics showing the revenue generated by driving schools in India in the duration of 2008 to 2018 (in million U.S. dollars):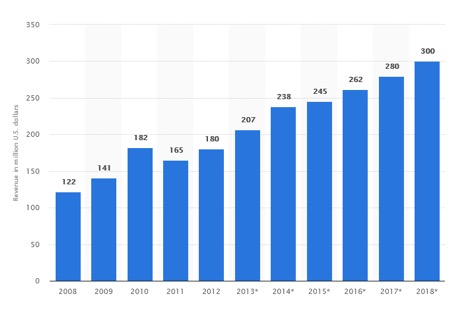 In the United Kingdom, above 1.6 million driving tests are carried out the year. These all records show that the market for driving schools is too large, not only in these three countries but all over the world.
When you start your own driving school, you not only benefit from the financial rewards, but you also contribute to road safety by teaching drivers how to drive perfectly and prevent road accidents. Starting up your own driving school is possible even with limited budget. But being an entrepreneur, you will need proper planning to avoid failure, so I recommend you to read basics of starting a business with this article.
Key Point of Driving School Business
Buy old Vehicles instead of buying New One
Perfect Vision and fast reflex action of Instructor
In the following article, I will consider that you will start your own driving school instead of owning any franchise. Now lets proceed on how to start your own driving school business:
Niche Ideas
The driving school business includes a couple of niche businesses. If you can afford the start-up capital, you can provide all the services, however, if you are setting up your business on a certain budget, then you can just select 1 or 2 niches to specialize in. Here are some niche areas within the driving school industry that you can specialize in:
Commercial Driving School: This type of school is for people who want to become professional drivers such as bus drivers, truck drivers, crane driver and also the mechanical equipment drivers.
Test Preparation: This business is open for people who to get prepared for the driving tests. The objective of this business is to make sure that clients get successfully passed in the driving tests to get their licenses.
Private Driving Classes: This business is for clients who want to get personalized training services. This type of clients is ready to pay more to take classes when it is comfortable for them.
Adult Classes: This driving school focuses on training the professionals who have strict work schedules.
Driving School for Disabled People: This type of business focuses on the training of people living with physical disabilities.
Driving School for Teenager: You can start an independent driving school which focuses on training mostly teenagers and high school students. You can also partner with high schools to give driving lessons to their students.
Budget Needed
The cost of starting a driving school business can vary from $10,000 to $50,000. This cost includes teaching equipment, certification, facility rental, and website design. If your budget is less, you can do a kind of partnership or association with the instructor. Many driving institutions subcontract with the instructors, and the revenue divided between 60 – 75 % for the instructors and 25 – 40 % for the school.
Legalities
First, you need to have a license before you start a driving school business in your country. To get qualified for the license, you will need to meet the following requirements:
You need to have instructor license. For this, applicants are required to submit a copy of their national ID; a copy of a recent medical examination; a copy of a valid driver's license and an attached CV.
You are also needed to take and pass a road sign test and a vision test.
Other documents needed to run a driving school business are as follows (They may vary from country to country):
Certificate of Incorporation
Business Plan
Insurance Policy
PAN Number
Business License
Sales Tax Registration Certification
Employer Identification Number
Sales Tax License
Important Insurances
Insurance is essential for starting driving schools because training inexperienced drivers to drive a car may result in loss and damages. Having the insurance covers can assist you to protect your client as well as your business from big liabilities that may affect the smooth operation of your business or even cause business bankruptcy. These policies may vary from country to country. Some insurance coverages that are most preferred and recommended are:
ADI (Approved Driving Instructor Insurance): this insurance covers many things including off-road tuition, loss of earnings, negligent tuition and personal liability if your business ever gets charged for the compensation. Mainly, it covers for all that poses a risk to your occupation as a driving instructor.
Motor Insurance: This insurance is designed to cover theft or damages of the vehicles utilized in operating your driving school business. If your business also provides private driving lessons, the policy may also cover the damages to your client's car.
Public Liability Insurance: This provides coverage to your business in the case when a member of the public suffers a loss or got harmed due to your business activities. Sometimes, damages and accidents are unavoidable when training new drivers, so this kind of insurance is very much needed for your business.
GAP Insurance: GAP insurance for Driving School helps to cover the variation between the valuation amount and the outstanding amount of the vehicles used to run your business.
Liability Insurance of Employers: If you are thinking of hiring other people to help run or manage your business, it is also beneficial to get employers liability insurance to get coverage for possible carelessness on their part.
Breakdown Cover: This type of insurance makes sure that your vehicle has got fixed swiftly when there is a breakdown. Several insurance companies also provide another vehicle to use for your work till your vehicle get fixed.
Financing your Business
Raising capital for any business type is the toughest thing you do to start a business. If you can raise capital for your business, effectively, you are in the midstream of the process of setting up your business. This business is not a fundable type of business. it belongs to SME so you can not approach VC or angel investors for this kind of business but yeah exceptions are always there. If you can plan something which can attract potential investors then you can surely go for funding.
There are several ways to secure external funding for the driving school business. Some of the best ways are mentioned below:
Partnership- Linking with a partner to contribute some capital in exchange for a share of profit.
Business loans from your bank.
The personal loan from family and friends.
Car hire purchase from the dealers.
Raising capital through private investors.
Small Business Loans via the Small Business Organization.
Planning the Syllabus
You can make three different types of lessons like – behind the wheels, classroom program or the third one is a complete suite. Now, for behind the wheel program, you need to know about the roads that have less traffic and your students can start learning driving on those roads. Then you need to plan roads with a bit traffic and then towards the roads with heavy traffic, as you need to train your students for all such traffic conditions. For the classroom programs, you need to get the best package software for that. Do buy your software from the government listed providers only.
Technical and Manpower Requirements
The primary tool needed for the driving school is a vehicle which you would utilize to teach the students. You are recommended to get a dual-control car; one which has a handbrake on the passenger side or you can get it retrofitted in the existing car. You may begin with a single car or multiple vehicles if you have the funds for it.
After that, you would also need an appropriate office space, computers, simulation equipment, office chairs and desks, stationery, internet subscription, mobile phones and other promotional materials.
You can start the school as a one-man operation with working as both the instructor and the business manager but if you desire to set up a bigger establishment, you will need to hire a few more hands including training instructors, certified drivers, secretary or receptionist, a bookkeeper, marketing officials, and a social media manager to help perk up your presence on social media.
The Marketing Plan
In order to make your business highly regarded, you will need to best marketing strategies that are mentioned below:
Create a website and get the assistance of search engine optimization to make it popular.
You can make a video game regarding driving rules and run it on your website.
You can make a basic training video of driving in the decided niche.
Visit colleges, specially girls colleges for teaching driving rules, it will act as a promotion.
Banner advertisement with good slogan lines will perfectly work for you.
Give discounts to people who are referring new clients to you.
Collaborate with car sellers so that they can recommend you whenever someone buys a new car.
Lastly, make sure that you implement a competitive pricing strategy and offer incentives and discounts to your customers so that they can recommend your driving school business to other people they know.