If you are planning to start an e-commerce business then you are making the right choice because e-commerce is growing year by year and is a great field to build a career. But remember one thing that you have to compete with already existing e-commerce giants in the market for your survival; for example, Amazon (Jeff Bezos) and Alibaba (Jack Ma). According to statistics, in 2017 around 1.66 billion people chose to shop online. Also, the e-retailing sale was 2.3 trillion U.S. dollars in 2017 and it is forecasted that e-retailing sales would increase to 4.48 trillion U.S. dollars till 2021 as per the report by Statista. To start a business in e-retailing will be a wise decision as a facility for ease to get products at doorstep will be a priority list of shoppers in the coming years.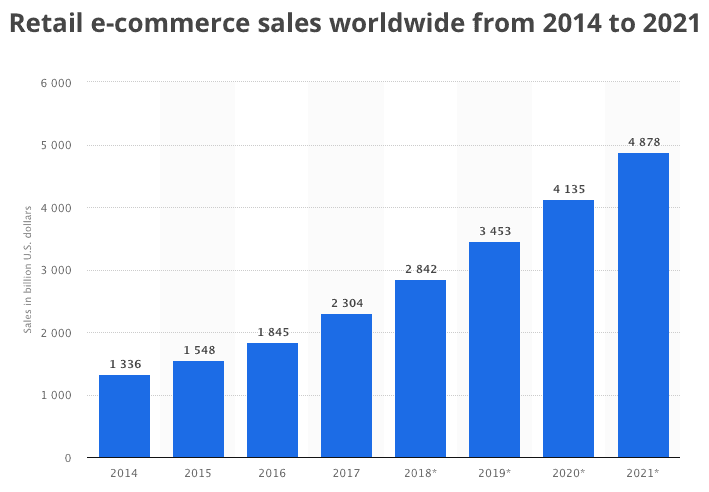 Table of Content
Niche Selection
Segmentation and Targeting
Roadmap

Sell your product

Create Your own website
Use CMS

Allow Reseller
Dropshipping

Legal
Budget Required
Sustainability Plan
Flow of Conducting Business

Target Cycle
Transaction Cycle

Inventory management
Supply chain management
Payment gateway
Delivery
COD
Workforce

Marketing
Helpful Resource
Although the sale of online products varies from place to place like in the Asia Pacific region, e-retail sales recorded for 12.1% and in the Middle East & Africa, it was 1.8% in 2016.
There are some essentials of an e-retailing business that should be considered while starting an e-commerce business. Let's discuss them step by step:
1. Niche
The foremost step is to plan a niche for the smooth flow of your e-commerce business. Initially, you need to decide the form of business – either B2B or B2C. The most popular form or category of e-commerce trade is "Business to Customer" (B2C). For example, Flipkart, Amazon, Jabong, etc. Another form is "Business to Business" (B2B) which is difficult to enter initially. For example, Alibaba, Indiamart, etc. These companies transact with other companies for clearing stock in bulk.
One more way which makes it easy for you to enter the e-world is to start with shipping or logistics. Today customers become more familiar with free shipping in the least possible time. You can help website creators by contributing to the product delivery mechanism of an e-commerce business. So it is challenging but attainable. If you are well aware of the local area and manage shipping staff in a cost-effective manner, then it would be a great success for initiators.
Apart from this, there are two different ways to become part of the e-commerce world:
a) Warehouse- To maintain stock at different locations, e-commerce sites give permission to deliver orders from those warehouses as and when required.
b) Product Seller- This one is an irregular kind of stock maintenance system for a side hustle and is an extremely smaller version of the warehouse. People keep certain types of stock/products in their homes or stores. The delivery person of the e-commerce website picks up the products from these locations when someone buys them online.
Note- After deciding the niche of your business, select a good name for your business, and register is online. You can buy a good domain name for your e-commerce business from Namecheap.
2. Segmentation and Targeting
When starting an e-commerce business you need to focus on three more things beforehand
a). Competition- E-commerce is the most competitive business world. No new entrant can survive in front of already existing e-commerce giants without a good market penetration plan. They have worldwide access, an extreme trust of customers, a large customer base, strong logistics, and a competent workforce. It took years for them to become market leaders. So if you are thinking to enter this market, enter with the best possible execution plan and focus more on limited region initially rather than competing.
b). Product Category- To enter such an extensive market, new entrants should focus on single niche products or limited niches and come with products that are not available or not much in demand on already existing e-commerce sites. For example, pregnancy pillows, handmade arts, and many more products. It will help you to create demand for your product in the market and keeps your survival safe.
c). Target Market- Understanding the target market is extremely important but equally ignored by entrepreneurs. Before starting your marketing first you should always draw your perfect customer. By doing so you can save a lot of hard work, time, and money. For example, if you are selling pregnancy pillows then ladies who are pregnant from 3 months or more are your perfect customer.
3. Roadmap
After deciding the niche and target market you have to prepare a roadmap for your e-commerce business. There are three ways to start an e-commerce business: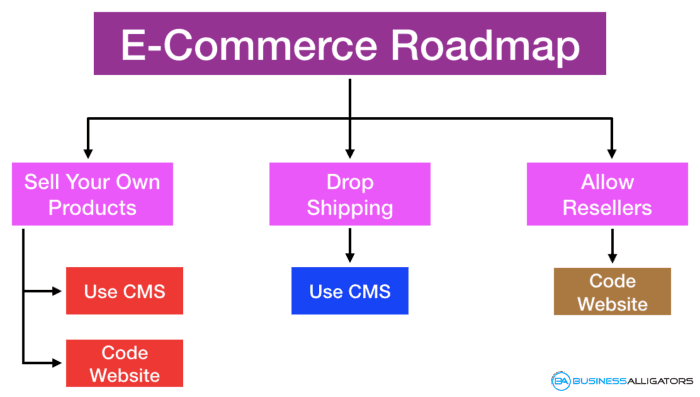 a). Selling Your Own Product
After deciding the form of business and market to target, the next step is to work on a platform where the owner and customers can interact for trade. There are three ways to do this
i). Content Management System (CMS)
If you are not good at coding and have no intention to become an expert in coding but still want to start an e-commerce business, then you can use CMS. There are lots of CMS out in the market which you can use to make your e-commerce website. But the majority of CMS are not good when it comes to performance. So don't choose any CMS just because they are having good designs for their themes.
Always remember usability comes before attractiveness so choose accordingly. As of now best ecommerce CMS are Shopify, Woocommerce, and Webflow.
In terms of ease and good looks, Webflow is better than Shopify but Shopify has an advantage that it is a bigger brand as it is a very old company as compared to Webflow. Besides this Shopify has an advantage if you want to start dropshipping which I have explained later in this article.
If you are choosing CMS then you need not to worry about anything else besides your product. Each and every online headache will be taken care of by the company, from coding to transaction.
Brands like Dell, Tesla, KKW Beauty, Kylie Cosmetics, Raymond's use CMS to build their e-commerce stores. All these names go to Shopify and Webflow and both these platforms have the option to test them for free.
Note- If you are building your e-commerce website using CMS like WordPress, Drupal, Joomla, etc which gives you a free hand to choose the web hosting then you can choose Bluehost or Siteground as the web hosting providers.
ii). Code Your Own Website
If you think that you will need a lot of features that these CMS are not providing, then you should go with this option. Because maintaining an e-commerce website is not that easy.
When choosing this option, you need to take care of hosting, cart, UX, UI, content delivery network (CDN), security, website architect, website backend, and a lot more.
But if you are a coder then probably you already know all these things that why you are considering this option. For hosting you can use Amazon Web Services, in the current market they are market leaders. And for the rest of the things, you can compare various options that are available in the market according to your budget but don't compromise with hosting because page loading time impacts ecommerce websites the most, and servers play one the major role in page loading time.
Note- If you want to develop any kind of e-commerce app (iOS or Android) or website then you can contact us through email or chat option. We can make any kind of e-commerce app or website for you.
b). Allow Brands and Resellers to Sell
If you are planning to be next Amazon or Flipkart, then this option is for you. In this option, you can allow small retailers in addition to big brands to list their products to sell. You can start this type of business if you are extremely good at coding and other related technology.
Besides this you also need different business acumen like handling stores, attracting resellers, attracting customers for multiple products. If you are planning to start this type of business, then I would recommend you to select a few niches in starting as competing directly with Amazon and Flipkart won't take you anywhere.
c). Dropshipping
If you don't own any product and also you are not extremely good at coding and still want to start an e-commerce business, then this option is for you. In drop shipping, you need not to worry about products, delivery, or any other headaches which are related to the e-commerce business. The only thing you have to be an expert in is online marketing. If you know or can learn about product selection, market selection, showing the right ads to target market then you can easily become a millionaire with this business. But let me clear you one thing that you can never be a billionaire with drop shipping. To be a billionaire you need to choose other forms of the e-commerce business.
But you are restricted to use Shopify if you are planning to start a dropshipping business as they are best in this market. Their second competitor Big Commerce is far away from them. Besides these two companies, you cannot trust any third name when it comes to Drop Shipping.
So if you are choosing Shopify then you have to select a product from Aliexpress and have to show them on your own store with higher prices and do marketing for your store. When people will watch your ads they will buy the product from your store that's it. Delivery will be taken care of by sellers of Aliexpress you just need to calculate your money, nothing more than that. All the automation will be done by Shopify itself.
In the case of Big Commerce, you will be linked with Amazon and that is the reason that you won't be able to create wonders with Big Commerce as everyone has an Amazon account these days. Also, resellers from China sell products at a much cheaper rate due to bulk production in China and they all are linked with Aliexpress, not with Amazon.
But you can check both Shopify and Big Commerce without paying as they both provide free logins.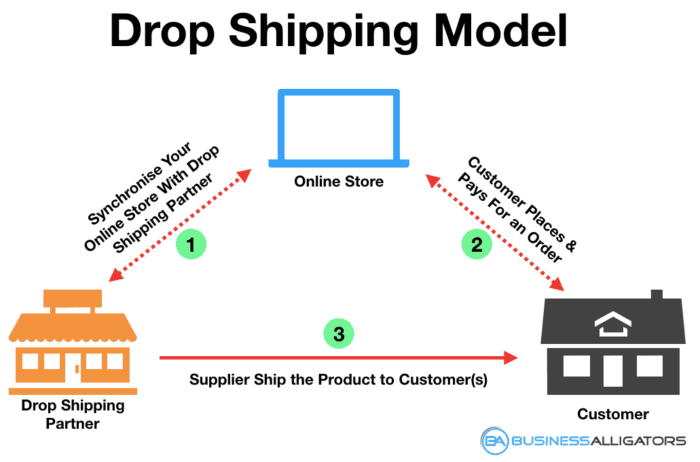 4. Legal
Legal formalities include three important things: Business Structure, Registration, and License & Permits.
Deciding on what structure we intend to follow is the essential key to bring the business into existence. If you are planning to work as an individual then you'll fall under the single owner business structure, where the incident of the gains and incurring the liabilities fall on the individual. In India, this form is popularly known as Sole Proprietorship. The other options available are LLC i.e. limited liability corporation. LLC is a preferred form so as to attract potential investors. Unlike a company, the control and management don't get diluted in the hands of multiple owners i.e. shareholders. LLC is also better than the single ownership form of business because the owner and business are created as two different entities with the limited liability of the owners. In such forms, the liability is borne by the business entity rather than the owner.
Registration of e-commerce business depends on the structure of the business. If the structure of a business is a company or LLP then it can avail limited liability protection and also faster tax processing. But business can't claim for limited liability protection if the business structure is partnership or proprietorship type. So the best is to start with a company as it helps in acquiring funds easily.
5. Budget Required
To ascertain investment, you need to choose the type of business first. If you are planning to start your e-commerce business by using some CMS like Shopify and doing drop shipping then you will be requiring approx. Rs. 100,000- 200,000 (US $1500- $3000).
If you are opting CMS just for e-commerce store but listing your own products, then approx. RS. 300,000 to Rs. 20,00,000 (US $4000- $30,000) will be required, the price may vary as per your product.
But if you are planning to start your e-commerce business by coding your own website and handling all backend operations yourself, and allowing resellers to sell their products then you will be requiring above Rs. 20,00,000 (US $30,000).
6. Sustainability Plan
To run a business using technology is profitable as well as risky. The technology helps you to reduce product processing time, make your marketing experience amazing and help you to store a large amount of information. But avoiding disadvantages can be dangerous such as regular website updates, security of customer information, online monitoring & training of the workforce, protection from hackers, etc. Moreover, fear of extensive competition and new entrants in the e-commerce market are other challenges to be considered while planning a long-term strategy for the business. To sustain for the long term in the e-commerce industry, marketers and planners should focus on:
Continuous development of website and servers.
Giving priority of value proposition rather than product fanciness.
An organized system for close watch on the delivery process.
Careful and regular analysis of customers changing demands.
Introduce new policies related to discounts offers.
Create a loyalty card scheme.
Keep eye on competitors' activities.
Extend your business to new and untouched markets.
Hiring Marketing Experts.
Conducting fun and rewards winning events in shopping malls.
7. Flow of Conducting Business
E-commerce business includes two types of processes: Target Cycle and Transaction Cycle.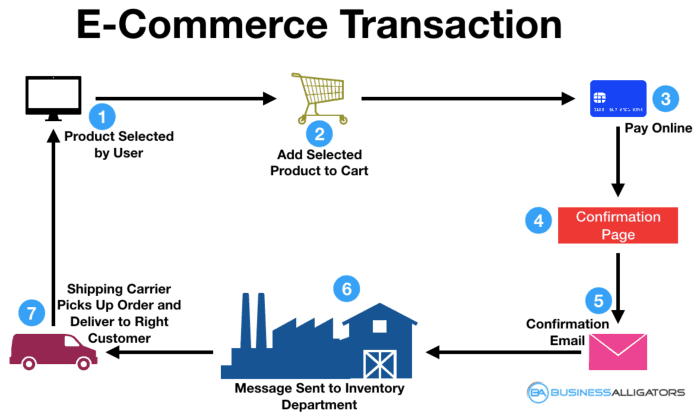 a). Target Cycle
This process includes the conversion of a prospect or target consumer into a customer of your product. Firstly make him aware of your brand through your marketing. Then influence him to register with your website to start shopping providing lucrative deals.
b). Transaction Cycle
It includes the process starting when customers place an order till delivery of the product to the customer. It includes a few important components which are necessary to keep in consideration throughout the process:
i). Inventory Management
Poor inventory management can shut down a well-organized and growing business in months. To keep an optimum level of stock so that consumer demands can be fulfilled as earliest as possible without wastage refers to Inventory Management. There are 4 ways to keep a check on Inventory in e-commerce business:
1). Maintaining Stock- Maintaining a minimum level of stock beforehand so that in the times of peak demand you would not be running out of inventory.
2). First In First Out (FIFO)- It is a technique in which the first products you install in your warehouse or store, you send them out for delivery first. It considers that customers will get fresh products.
3). Just In Time (JIT)- It is a technique in which you order the product as and when demand comes for delivery of products. It saves the cost of unsold inventory.
4). Inventory Auditing- To match inventory you should have and the inventory you actually have is very important to keep a check on inventory and it should be done every month so that it won't disturb the delivery process.
ii). Supply Chain Management
If we talk about Supply Chain Management, it consists of keeping Production, Inventory, Wholesalers, Retailers, and customers also connected in one continuous cycle. An e-commerce business cannot survive without good SCM. There are three types of Supply Chains in the e-commerce business:
1). Warehouse Supply- To sell products directly to consumers from the warehouse.
2). Product Sourcing- To set up a store for products and sell to customers who are not manufactured by you.
3). Drop Shipping- To deal with a company to deliver products on behalf of you to customers directly as and when a customer places an order.
iii). Payment Gateway
It acts as a link between merchants and customers by authorizing payments if done or declined safely. There are four types of payment gateways: Hosted Payment Gateway, Self-Hosted Payment Gateway, Application Programming Interface Hosted Payment Gateways and Local Bank Integration Gateways. So a person running an e-commerce business should choose the best Payment Gateway to minimize the processing time and maximize the ease of payments by card for customers.
iv). Delivery
Delivery is not concerned only with getting products reached to customers. It includes:
Timely delivery
Products should be matched with what customer ordered
Maintaining communication until final delivery to update customers the status of a product
Making delivery confirm by taking customer signatures and notifying it to the company electronically
Request customers for feedback politely
v). Cash on Delivery
People prefer cash on delivery more than digital payments due to lack of trust and digital infrastructure in the case of underdeveloped countries or where online transactions are new in the system. So you are targeting such an audience then never underestimate this option. People generally don't believe in online payments due to misconduct and fraud. So, there is a need to focus on the selection of payment channel which is cost-effective and speedy also.
vi). Workforce
Last but very important, the fuel of e-commerce is a well organized and competent workforce. The main professionals required for running an e-commerce business are:
Technical Experts
Business Strategist
Production Manager
Marketing Manager
Inventory Manager
Supply Chain Manager
Distribution Channel Manager
Employees will vary according to the size and requirements of the business in each department.
8. Marketing
To make customers aware of the presence of your product plays a vital role. Marketing acts as fuel to run your business at a growing pace. And to compete with existing successful giants of e-commerce, new entrants need to come up with new ideas to market your brand. There are some helpful options you can opt for marketing e-commerce business:
a). Banner Ads- It is a mechanism where the marketer has to pay some fees to various online platforms to display your Ad on their pages. For example, Google, Facebook.
b). Search Ads- It is a marketing tool to use some essential keywords to get your website's name pop out in initial searched results by viewers.
c). Retargeting- It is a strategy to influence the customer to buy products by continuously flashing ads of your brand whenever they use the internet either while browsing or scrolling social media. Basically, it follows your customers all over the web.
d). Email marketing- It is the best tool to promote your brand that is to access the email address of prospects somehow and regularly inform them about your products. Around 73% of b2b business professionals believe that email marketing generates more leads than any other marketing channel.
e). Decrease cart abundant ratio- It can be managed by offering discounts or other perks when customers move the cursor towards the URL bar to close the tab by showing a popup.
f). Offline display advertisements such as banners, pamphlets, etc(occasional festive advertisements). But the owner should go for offline ads only in case of a sufficient budget.
g). Make your mobile application experience awesome.
h). Active marketing on social media such as Facebook, Instagram, etc.
i). Influence customers to write reviews for your company.
j). Announce exciting deals for the first 100 customers.
Helpful Resources
FAQ
Can I start an e-commerce business if I am not a technical person?
Yes, you can start, but with the time you need to learn a few technical things. It is recommended for you to start your ecommerce business on Shopify.
Can I compete with Amazon and Alibaba?
Currently, you cannot compete with them, they are huge companies and have multiple businesses under them. It is recommended that you start with the targeted market and with the time you can increase your product line. It may be possible that with the time you come into their competition.
How do I hire team for my startup?
It is really tough to hire extremely talented people or to bring them on the board when you do not have anything. Honestly, it is possible to teach you about hiring in such a short paragraph.
---
Disclaimer- Some of the links in the article are affiliate links, meaning, at no additional cost you, we will make a small commission if you click through and make a purchase. However, we ensure that we only recommend you the right products.