'Blogging' has generated a new wave across the startup ecosystem not only in India but across the globe. What initially used to be a passion for most writers and bloggers has turned up to be a reliable source of income for them. Utilising the right kind of strategies to tap the potential of blogging to the fullest has enabled bloggers to take up blogging as a full-time profession and pen down their thoughts keeping in mind the interest of their audience. And one such blogging website that we are going to cover in this section is 'ShoutMeLoud' and the success story of India's most followed blogger, Mr. Harsh Agrawal. Currently earning over $50,000 per month, we would discuss how he has transcended his site into a viable platform for sharing a pool of information amongst users.
About ShoutMeLoud
ShoutMeLoud is a smart venture started by Harsh Agrawal, a Delhi based professional blogger. He began his blogging journey on 1st December 2008. Initially established as a passion, today ShoutMeLoud community is catering to over 1 million subscribers worldwide by helping them in generating income from their blogs. The owner himself has written numerous blogs that educate beginners on everything from starting a blog to making money online. Today, he is known to be the heart of Indian bloggers and probably the #1 contributor of blogging in the country.
Today, ShoutMeLoud is a well-knit community of bloggers, popularly known as 'Shouters' who write on various niches enthusiastically. Most of the blogs on their site, 92% to be precise, revolve around tips to earn money through blogging while the rest cover important tips & guides to survive in this internet savvy world. A section is also dedicated to upcoming entrepreneurs and solopreneurs to improve their way of living. It also guides them on how to increase traffic to their websites and increase their sales value. With the focus on helping everyone to lead a boss free life, SML has today emerged as a medium for people to change the world with the power of their words.
Before we go any further, we would like to throw light on the latest transparency report from ShoutMeLoud that would tell you how successful they have become over a span of few years. According to the traffic report of July 2017, ShoutMeLoud posts 15 blogs in a month with over 1.5 million page views received over their pages. Moreover, the maximum traffic they get is from India, followed by USA, UK, Nigeria, Canada, Philippines, Pakistan, Australia, Indonesia and Bangladesh.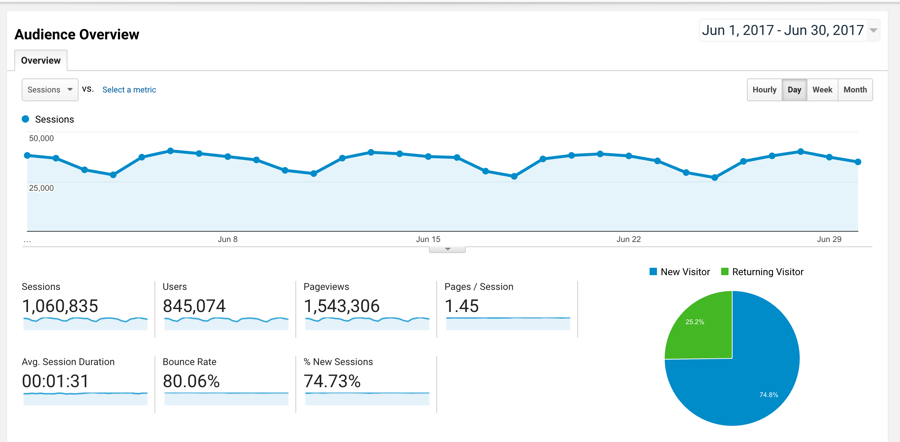 Recently, our team at Business Alligators got a chance to interview the man behind ShoutMeLoud, Mr Harsh Agrawal. Let us take a look into some of the excerpts from the interview:
Que- Throw some light on the story behind the name of your company 'ShoutMeLoud'?
Harsh- From the very beginning, I was inclined towards sharing the knowledge that I have with my peers and in turn, expanding my knowledge pool as well. So, this is why I started Blogging. With time, I realised that blogging has given me a platform where I can speak my mind out and reach out to the right audience. So, that is where the idea behind this unique name came from. I could shout my opinions loud and communicate them to my readers in the form of my blogs that eventually empowered me and I wanted others to feel empowered too. The plus point was that being a unique name, it became easy for me to create a strong brand that could reach the masses easily.
Que- Where do you see yourself and SML in the next 2 years, considering a large number of competitors that you are surrounded with? How do you deal with high domain authority competitor? Is there any strategy besides long tail keywords?
Harsh- Talking about competitors, I don't see them as a threat. Instead, I believe that all sort of competitions are healthy as we get to learn something from them each time and opens the door for endless opportunities that can be tapped in a particular industry. If ShoutMeLoud was the only blogging site that would have existed, I would have never got a perspective of where I can take my business to.
My personal focus is always towards generating high-quality content that can be useful for my readers who want to be their own boss. Unless I am sure about the quality of my blog content, I do not publish it.
Also, at SML, we strive to help people in becoming their own boss. I aim to empower more and more people, impacting more lives and get my voice be heard even more as the world becomes more and more tech savvy.
Que- Any downfalls that you might have faced during your journey at ShoutMeLoud so far?
Harsh- There have been more than 1 situations that tried to curb me down. In 2011, during the launch of Google Algorithm updates or Panda updates, our traffic dropped to 40-50%. Our entire blogging community started to panic. That was the time I started to consider other alternative career options for myself. But then I realized that google can still be reliable. I might not be doing what I am supposed to. Eventually, I started to introspect my actions that helped me realize the value of SML.
Que- How do you manage your time and strike a balance between your personal and professional life?
Harsh- At first, my time table was a bit weird but it is more balanced now. My day starts at 9 am. I maintain 2 journals. In the first one, the '5-minute journal', I thank 3 people for what I am today. Next, I write 3 things that make me feel great and motivated all through the day. The second diary is my 'Productivity Planner' in which I list out the things I plan on finishing in a day. This helps me to stay focused and minimise distractions.
I work in intervals and follow the Pomodoro Technique. So if I work for 30 minutes, I take a 5-minute break to rejuvenate myself. In the evening, around 5, I either meditate or exercise. My day ends at 8 pm which is only dedicated to my friends and family. And towards the end of the day, I take a few minutes to pen down all that has happened throughout the day and how I could have made my day better. I occasionally indulge in reading too before sleeping.
Que- How do you portray yourself as a 'doer' instead of just being a money making machine, unlike most entrepreneurs these days? Also, how have you been able to stay grounded despite so much of success?
Harsh- I feel the purpose of writing blogs is not to get likes, but to be able to help people in leading better lives and earn significantly while blogging. I come from a humble family background so reaching the peak of success was overwhelming for me at times. I started to engage in other things apart from blogging that deterred me from my long term goals. However, I began to challenge myself and set expectations for myself that helped me to stay focused. So that, combined with my zeal to help people helped me to stay grounded and focused towards my work.
Que- How do you manage your wide network of freelancers and how do you ensure optimum productivity from your team?
Harsh- Firstly, we have a communication channel called 'Slack' that helps me to stay in touch with my team members. We maintain excel sheets to monitor the productivity of every employee to ensure that working hours are put to the best use by my employees.
We also have weekly calls preferably video calls with our team members to stay updated and make my team feel like a part of my blogging community. At times, we also give bonuses to our potential employees that help my team stay motivated at work.
Que- Is there any specific format or questionnaire that you follow before hiring freelancers?
Harsh- I usually ask them a basic question that why they want to do what they want to do. I give them a demo work depending on their personal interests and passion. At times, I also try to know them better through their social media activities. And at last, I assign them actual work to understand if they are fit for their job at SML or not. One more thing that makes my hiring task easier is their mindset to learn and adapt to new things.
Que- If you had a chance to go back to 2008 with the same knowledge, what would be that one thing that you would want to change about yourself?
Harsh- I would probably start to meditate much earlier. Rest everything that has happened in my life so far has shaped me into the kind of person that I am today. So I would not like to change a thing.
Que- How did you face the initial family pressure when you started blogging?
Harsh- There was a time when it was hard for me to explain to my family that blogging can be a stable career path too. However, with time, as I became more and more confident about my decisions, it worked out pretty well for me after that.
Que- With whom would you want to share the credit of your success and why?
Harsh- My mother. Because she has sacrificed a lot throughout my entrepreneurial journey and also to provide me with the best quality education that has shaped me into what I am today.
Que- Any advice that you would want to give to upcoming bloggers for AdSense and Affiliate marketing?
Harsh- For AdSense, you need traffic. For that, you need to be good at SEO, PPC and you need to be on a great niche where you can get a good amount of traffic/ visitors. However, relying only on AdSense for earning is not sufficient. You should consider making money from other avenues as well.
For affiliate marketing, you need to be authentic. Also, having a specific target audience is very important. It is important to consider the demographics of your audience and your articles should revolve around that. I have even written a book on affiliate marketing in which I have mentioned each tactic which I have used to earn $30000 per month.
Buy Book Written by Harsh- Complete Affiliate Marketing Handbook For Bloggers
Que- Any favorite book that has inspired you?
Harsh- I have 3 favorite books as of now.
'The Surrender experiment' that I personally recommend to everyone.
'The Adweek copywriting handbook' that has helped me to improve my writing.