On November 8th when PM Narendra Modi suddenly announced demonetisation whole country was thrown into turmoil. The mad rush to deposit now illegal tender of Rs 500 and Rs 1000 notes has resulted in long lines at banks and at the same time lines and foot falls at shops and business premises have vanished. As cash gets rationed businesses and industry that depend on cash have been directly impacted. A surprise in this list is fast growing e-commerce industry in India and is the reason is over dependence on Cash on Delivery as a payment method. Every e-commerce company either you talk about Amazon or Flipkart or Snapdeal, each of these companies are facing a great loss.
Cash on Delivery the biggest innovation of Indian e-commerce
In India, 80% sales of e-commerce industry are Cash on Delivery. In last 5-7 years Indian e-commerce industry has come of age from few startups doing few thousand orders a day to an industry with a 15 billion plus annual GMV (Gross merchandise volume) run rate. Apart from logistics and ensuring delivery across almost all pin codes in India, the biggest innovation has been Cash on Delivery (COD). COD was truly innovative in multiple ways.
Reduced trust barrier for online transactions.
Built an alternate payment channel for people with now access to plastic money
Great way for people who deal only in cash to buy stuff online bringing cash economy on the e-commerce bandwagon
While COD was a great innovation it came saddled with multiple issues like:
Higher returns
Higher order cancellations
Increased cost of delivering the order(additional costs of handling money)
But with laser focus on growing GMV at any costs by most of the e-commerce companies, all these issues were not adequately addressed and COD turned into kind of addiction for business. It derives business numbers high in short term but not the best way to build long term business.
Impact of Demonetization on e-commerce businesses
This is the exchange I had with Avlesh who is CEO of the leading customer engagement tool Webengage used by many e-commerce companies in India.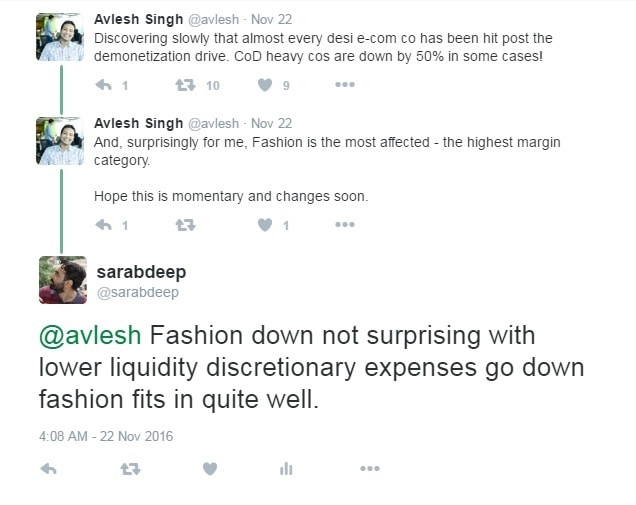 And this is symptomatic of how e-commerce is getting impacted by demonetization. Elaborating on the conversation here is a summary of possible impacts of demonetization on e-commerce industry
All COD orders will be badly hit and if your business is COD heavy upto 90 % of your orders might be impacted
With cash rationing happening consumption drops and people tend to spend less this will have impact on non-COD orders as well
When there is less cash you stop discretionary expenses first, so categories like fashion, wellness, gifting etc might be impacted more than stuff like accessories, daily utility, baby products and electronics
Big ticket items like high-end mobile phones which were popular on COD, will be hit more than smaller ticket items.
On the flip side returns and order cancellations will reduce and creating better order economics.
While this might be a temporary blip and normal service will return as cash crunch eases. It will also be a great opportunity for e-commerce players to push customers towards adopting cashless instruments and recalibrate business models to incentivize cashless instruments.