Irrespective of the fact whether you own a degree in furniture design or manufacturing you can have your own successful custom design furniture business as long as you have the eye for what customers want. More and more people are becoming bored of the mass-produced and uninspired furniture and are looking for exquisite furniture pieces made by one's own hand, implying that there is no better time to start up your own furniture brand and bring to the market beautiful, inspired, and made with passion exclusive furniture.
Growth in the furniture market is rising due to an increase in demand from the domestic sector and of the varied unique designs. The furniture industry is growing and is expected to grow until 2020 at a CAGR of 4%. Customers with modest incomes are expected to make half of the metro population by 2020 making them the fastest-growing segment in the housing market and implying a continuous growth in furniture demand. The international trade of furniture amounted to US$ 129 billion in 2016 and is expected to be similar in 2017-2018. And China and USA are the leading countries in terms of market share.
This article right here will throw light not only on how one can start his/her own furniture business but will also provide important tips on how to manage the business to make it profitable. But I would recommend you to have a look at our article How to Start a Business with this article where we have explained the right sequence of doing business. We have also mentioned about raising initial funds, team building, etc.
Now below are the two aspects of doing furniture business:
Furniture Manufacturing Business
Furniture Selling/Trading Business (Online and Offline)
Table of Content
Furniture Manufacturing Business

Knowing Your Niche
Design Inspiration
Required Raw Material

Classification Of Material

Manufacturing Process
Tools and Machine List

Furniture Selling Business

Expense Forcast

Offline Expense
Online Expense

Choosing a Location
Online Store
Now let us discuss our first type of furniture business
Furniture Manufacturing Business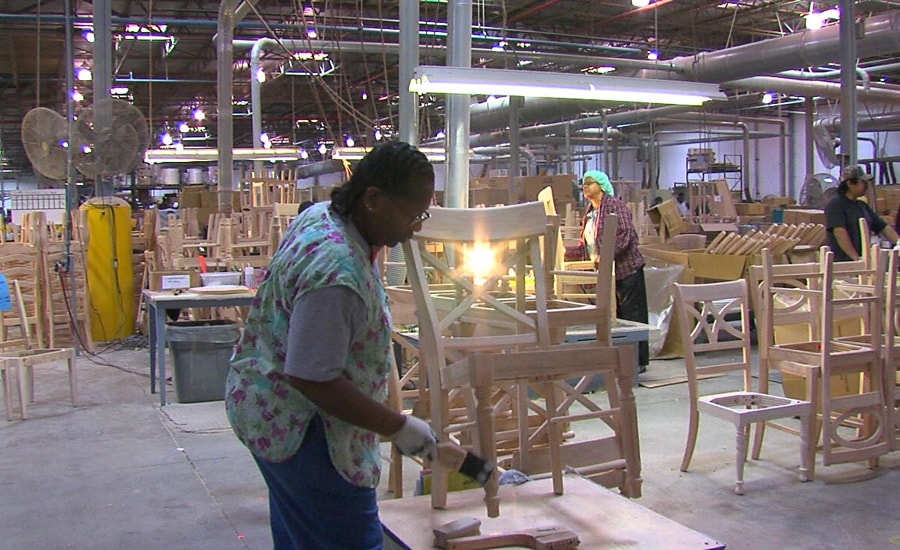 Considering the data from the 70 countries with 5 billion inhabitants accounting for 75% of the world population, the total worth of furniture amounted to US$ 406 billion in 2015, an estimate by CSIL. In 2016 more than half of world furniture production took place in Asia and the Pacific area. Furniture manufacture is a highly labor-intensive industry employing millions of people across the globe. If you are planning to start the furniture manufacturing business you should consider 15-25lakh as your minimum budget otherwise you might face crises very soon.
Now let us discuss the steps involved in the furniture manufacturing business
Knowing Your Niche
It is probably the most important thing to do before starting any business and it includes first to decide the kind of furniture you wish to create for example office, domestic or home furniture or luxury items. The next thing to do will be to undertake market research to understand your target audience, the demand for it, and the geographical areas you wish to cater i.e. locally or a broader market. A competitive analysis involving knowing your competitors, product prices, and characteristics that will set your furniture stand out in the market is a must. Another aspect is customization, decide if you will allow customization for your products. Develop a business name, logo, and slogan.
The business name must give an idea of your product line.
The slogan should embody the ethos of your work. Let it be short and catchy.
The logo should not be messy and as neat and classy as possible. Hire a graphic designer to help you with this.
Publish a catalog with the product images and price details.
Design Inspiration
A well-executed theme or a concept can result in a timeless piece of furniture. Creating vivid, multi-functional, and space-saving furniture is a trend followed by modern furniture designers. On the other hand, Indian style furniture is making use of solid wood furniture with an authentic look of incredible Indian craftsmanship, curved arm sets, and inlay work in metal or ivory. With so many varied styles of furniture, it is hard to conclude the type of style that suits you best. Listed here are some categorizations, as a pair which are often confused with each other, that can help you broadly understand the different types.
Traditional VS Rustic- Traditional furniture is formal furniture, artistic, graceful belonging to the Queen period. Rustic furniture has a homely appearance.
Art Deco VS Retro- Former is characterized by geometric and angular shapes. Retro reminds you of the recent past.
Shabby Chic VS French Provincial- Shabby chic has a casual and distressed look with a feminine feel.
Modern VS Contemporary- Modern furniture originated in the 1900s and creates sleek and stylish interiors. Contemporary is the one used most commonly today.
It is important to have exclusive designs either according to the customer's wants or according to one's own preferences as a furniture designer. Keeping up with the modern-day designs and customizing according to the customers or having an exquisite design collection is a choice one has to make.
Another aspect of having a successful business is to patent the designs. Patenting your creation is something that most of us don't think about at first. The truth is over 2 to 3 centuries hundreds of thousands of designs have been created and there is a 90% chance that most designs will resemble those designs or some aspects of it. Creating a twist and market appreciation doesn't protect your design from being copied. Having a patent will protect the form, procedure, and the design itself. It is hard to get a patent and hence it is advised to strongly advertise your product to inform the customers about the original creator by building strong brand goodwill and identity.
Required Raw Materials
The most obvious choice is wood, and why, because it is the most versatile, renewable, and sustainable resource. It is strong, durable and usually, one lengthy plank of wood can create one piece of furniture. Each wood has different characteristics adding a different degree of warmth and elegance to the ambiance. It is machinable and can be fabricated to fit any shape and size. Traditionally wood is classified into two kinds – hard and soft.
Traditional Classification
(1) Hardwood – comes from broad-leaved deciduous trees that drop leaves yearly and produce seeds. Such trees are slow-growing which tends to produce dense wood. Hardwoods are darker in color and have good resistance to fire. Types of hardwood – Cherry, Chestnut, Lime, Mahogany, Maple, Oak, Rosewood, Teak, Walnut.
(2) Softwood – comes from coniferous trees that have needles and do not produce seeds but are not weaker than hardwoods. Softwoods are generally less expensive than hardwoods because coniferous trees grow fast. When compared with hardwoods, softwoods are less dense and have poor resistance to fire. Types of softwood – Cedar, Fir, Pine, Redwood, Hemlock, Spruce.
Besides the above-mentioned categorization wood can also be classified as engineered/manufactured or man-made woods and solid woods. Implying that both hardwood and softwood can belong to the below mentioned categories. Though both of them offer a similar look, the difference lies in the structural composition.
Modern Day Classification
(1) Manufactured wood – manufactured from three or more layers of high-density fiberboard (HDF) or medium-density fiberboard (MDF) and an original hardwood veneer(facing layer of wood) top layer joined together under pressure and heat. A thin coating of melamine is done to protect the surface and prevent scratching, staining, or burning of the wood. It is relatively cheaper and lighter making it affordable and easier to ship. Engineered wood is more suitable for high moisture areas and areas with frequent temperature changes. It does not warp or cup during climatic changes.
Few disadvantages are (i) difficult to repair (ii) does not hold screws well (iii) contains many chemicals (iv) can swell when exposed to water. Types of manufactured wood – Laminated Veneer Lumber (LVL), Oriented Strand Board, Hardboard (HDF), AC Plywood, CDX plywood,
(2) Solid wood – Furniture made from a single piece of wood, has greater strength and is quite durable lasting for several decades. It stands up to machining and modification like sawing legs down etc. Solid wood furniture might be costlier than the rest, however, damages are easily repaired and are the most eco-friendly. Types of solid wood:
(i) solid wood – hardwood: Oak, Ash, Walnut, Cherry, Maple
(ii) solid wood – softwood: Pine, Poplar, Fir
(3) Particle Board – is made out of large wood chips, sawmill shavings or sawdust adhered together with glue and chemicals. Lighter and less sturdy than MDF and is mostly covered with not-real-wood. Advantages are that it is cheap, does not warp, expand or contract until the laminate finish is intact. Does not dent easily unlike softwood pine and can be painted. However, there are disadvantages of using particle board like it may fall apart when drilled or sawed. the exposed particle starts to crumble and on absorbing water expands and is no longer repairable. Particleboard furniture lasts up to 3-5 years.
Other Materials
Other than wood following materials are also used to make furniture.
(1) Steel/ Metal – Metal furniture is easy to clean and tolerates pest fighting chemicals better than wood. It is best for any sort of living environment dormitory or housing. It is highly durable and can withstand heavy usage. Metal furniture can last for 10-15 years. up-front investment is higher but the replacement cycle is less frequent.
(2) Plastic – Since its invention in 1862 in London plastic and because of its extraordinary ability to mold into any form it has increasingly become the most popular material to make bespoke furniture. Plastic furniture is lightweight and unbreakable. The maintenance cost is negligible and does not wear down in extreme weather conditions. Basic raw material required is polyethylene terephthalate which is thermoplastic and can be recycled easily.
(3) Glass – Glass is usable for furniture when it is toughened, also known as toughened glass, which is done by heating and rapidly cooling with cold air causing the outer surfaces solidifying before the interior inducing permanent compressive stresses into the surfaces of the glass which makes it suitable for furniture as it then can be curved and bent. Annealed glass is not suitable to be used for furniture making because it's breakable. The third type is Laminated glass which consists of two or more layers permanently bonded together by interlayers of transparent plastic.
Manufacturing Process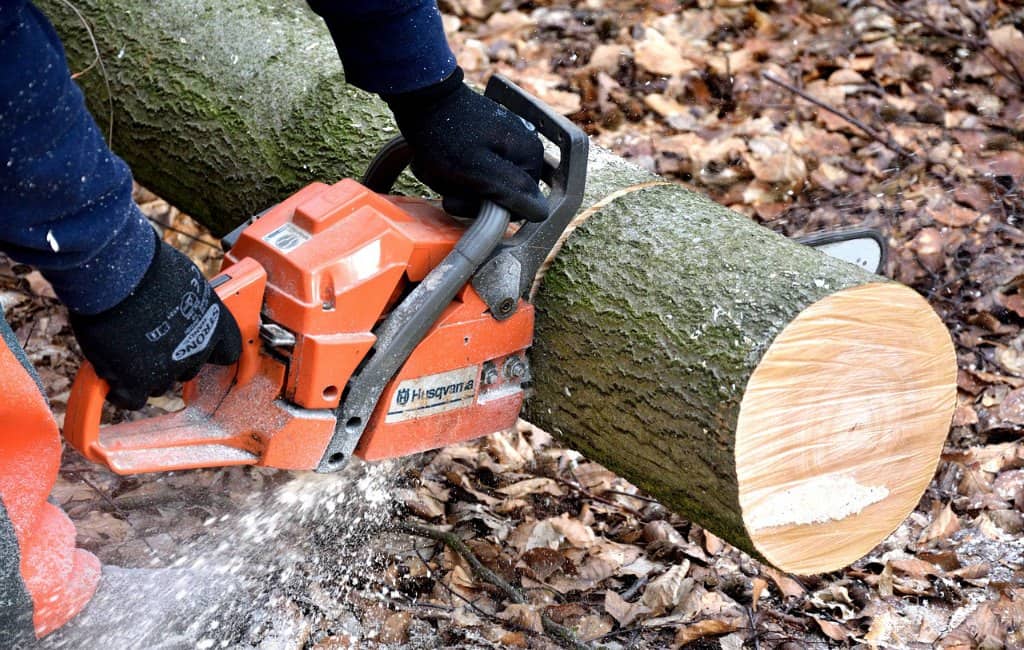 The manufacturing process has several stages as discussed below:
(1) Hewing and Sawmilling: – Obtaining a log of wood as a result of chopping or cutting. Logs are sorted and stored according to different sizes. One needs to figure out the transportation of logs, storage area, power supply to sawmill units, and handling equipment like front end loaders, and overhead cranes. The Longest possible straight length of required measurement is cut with minimum waste.
(2) Kiln Drying: The process of keeping sawn timber/lumber into kilns where heated air is circulated and the temperature is maintained to achieve an optimum level of moisture. Done to dry green lumber/ timber. This can take up to 4-6 weeks and causes the timber to shrink up to 7-15 % depending on the thickness.
(3) Splitting and Cutting: The wood is split and cut into the required size using the cutter saw and SERCLE machine.
(4) Planning and Drilling: Planning is done using a plane machine to achieve a smooth wood surface without line saw. Drilling is the process of making blind and through holes to join the furniture. Drilling machines are called drill press. Machines used for this are the tenoning machine and mortizer machine.
(5) Sanding: Done to refine the furniture. this job is mostly done by hand and can be time-consuming. Machines like orbital finishing sanders, portable belt sanders, random-orbit sanders can be used to achieve the finesse. The grade, or grit, of sandpaper, is based on the number of sand granules per square inch of paper. The higher the number, the finer the grade.
(6) Assembling and Finishing: Assembling different components into finished products. Commonly it is done before finishing to avoid any scratches later. The final step involves layering the wood surface to make it look beautiful and protect from insect harm.
(7) Molding: There are a number of ways and mostly all of them involve metal molds carved into the desired shape. Three different types of molding are : (i) Rotational (ii) Injection (iii) Gas Assisted Injection molding. The basic machinery required to make plastic furniture is the injection molding machine.
Tools and Machine List
I am mentioning a few machines and tools which are very important for any kind of furniture business. Though these tools are not enough you will require a lot more depending on what quality you are producing and in which furniture niche you are working
Circular saw
Hand saws, a router, and two router bits.
Jigsaw
Chain Saw
A power drill
Chisels and a wooden mallet
Hammer and some screwdrivers
Sanders
Band Saw
Double Side Planner
Timber Sizer
Radial Arm Saw
Spindle Moulder
Tenoner
Once the furniture gets manufactured you can sell your furniture in two ways i.e B2B and B2C. One can either can sell it directly to consumers or you can make B2B relations for this purpose. For the B2B model, one needs to contact the shop owners and online dealers. For B2C one needs to have a plan, budget, and a good team which we are going to discuss in our next step i.e furniture selling business.
Furniture Selling / Trading Business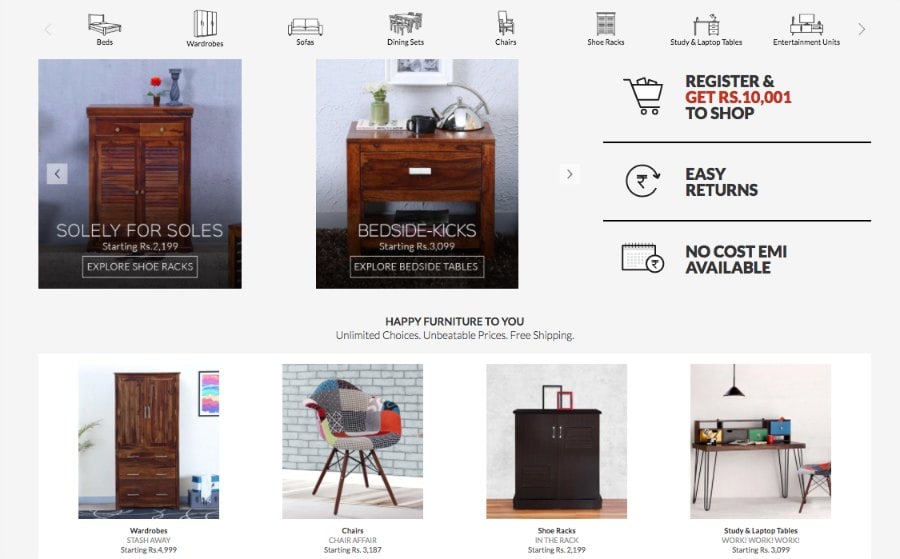 Two broad ways of furniture trading are (i) Selling Offline – having a store (ii) Selling Online – trading only through the website. Besides this Deciding Niche and Innovation in Design is also important in the furniture selling business which I have mentioned above in Furniture Manufacturing Business, please have a look from there.
Now let's discuss the steps involved in the furniture selling business
Expense Forecast
A crucial step to make your business successful is to accurately budget the company. A precise list of expenses not only helps in estimating the fixed costs and operational costs but also provides an idea of expected profit and makes it easier to communicate with banks and investor to get loans and capital. the list below includes most of the expenses, but not all, that shall be incurred:
Expense involved in selling through Furniture Store
On a rough estimate, you will require 15-25lakhs in the following areas
Expenses incurred to structure your business which might involve fees or other charges for hiring an advisor.
The cost to obtain a license and other permits from governments.
Store rent or purchase payment of the store.
Purchase payment for equipment.
Purchase payment for inventory, ready-made pieces or raw materials like wood, glass, etc.
Marketing and advertising expenses.
Staff salaries and bonuses.
Cost of running the store like water and electricity bill.
Cost of maintaining the website.
Expense Involved in Online Furniture Selling
On a rough estimate, you will require 40-50lakhs on initial level unless you are selling some unique products which are only available to you. In that case, you can do this business in 10-15lakhs only.
Domain
Hosting
Office
Advertisement
Quality Management
Staff Salary
Choosing a Location
It's not an easy task to choose a perfect location, consider a space that fits the needs of the customers. If you plan to do cabinets look for a large space for a better display, while catering residential clients a space that accommodates parents, children and strollers are recommended. It is highly suggested to choose a place that is easily accessible to your suppliers, space where your suppliers can easily reach and drop off the materials required. Do not fall for a lower rent but for an efficient useful space keeping in mind all the above said things. Listed are some important things to be kept in mind:
Advertising using neat billboards informing people about the store location.
Offer unique accessories complementing the furniture.
Frequent and new addition in the stock to keep the customer coming back.
Personalized attention and specialized service for the walk-in customer.
Well trained sales team, one which knows all about the product and prices, discounts & offers and promotes the product and the brand with confidence.
Build a relationship of trust and loyalty with the customer by offering high-quality customer service
Online Store
Choosing to sell online would still require you to have a warehouse to keep your inventory and stock. Space efficient and big enough to store the products without causing any damage. Selling online implies having a brilliant website that allows the customer to choose the quantity, size, delivery date, a 'send as a gift' option, and the payment gateway. Listed are few things to be kept in mind:
1). Establishing long term relationships with wholesale sellers. Building a populated stock is a key step buying in bulk from wholesale sellers lets you enjoy a good profit margin.
2). Boost your online store by including a shopping cart solution on the website. Allowing the customers to choose the color, size, zoom in option, high-quality HD pictures, a swift check out are all drivers of a successful website.
3). Associate with trusted names that deliver your products without causing any damage. Make agreements only with good brands so that a delivery does not cost you your reputation.
4). Get your name out in the market using all sorts of online advertising platforms ranging from social media to SEO.
5). Delivery is the last point of contact with the customer, make sure it to be an impactful one. Confirm the date and time of delivery with the customer and have a polite and presentable staff.
6). The website should tell your story, company's history, mission, vision and goals to engage the customers thoroughly in your brand.
When selling through secondary sellers like Amazon, eBay, OLX or Overstock don't forget to mention the link to your business website.