There's that one (or five) T-shirts we got at a company fair or from some online campaign (and we love those T-shirts, don't we?). They often feature the company's logo, tagline, and something witty like "Espresso Yourself", "Ctrl+Alt+Delight", etc.
That's t-shirt branding at play right there. And if done well, it can bring more eyes to your business, which can translate to revenue growth on steroids and, of course, profits. That's where this article comes in – your guide to nailing t-shirt branding in just one shot.
Stay tuned for tips that can help you turn a humble t-shirt into a powerful tool for brand promotion. Plus, we'll let you know how partnering with customized design wizards like TeeJunction AU or others you love can get you there faster and better.
1. Target Audience Customization
T-shirt branding mastery 101: Know your crowd. In the t-shirt world, this means creating designs that resonate with your target audience's vibe, something that says, "Hey, I get you."
Say your target market is millennials. They're not just looking for a t-shirt; they're scouting for a statement piece. So, what's the move? Bold designs, eye-popping colors, and maybe a dash of irony.
That works for the young and wild, but will it work for your baby supplies business? No. But gentle, dreamy, peaceful might. Get this stage right and make your people feel seen and heard through your brand. Now, that's brand power!
2. Quality Material Selection
Think about it – everyone has that go-to tee, the one that's as comfortable as an old friend and just as reliable as a 1980s Volvo. That's the standard you're aiming for with your t-shirts.
It's not just about slapping your logo on fabric; it's also about choosing materials that beg your people to wear it repeatedly. A t-shirt that withstands the test of time and laundry? Perfect idea. One that your people reach for whether they're heading to a casual brunch or a night out? That's the gold standard.
This kind of quality turns your t-shirt from a mere promotional item to a wardrobe staple that parades your brand wherever it goes. So, forget the one-wear wonders; invest in tees that endure and keep your logo in the limelight long after the first wear.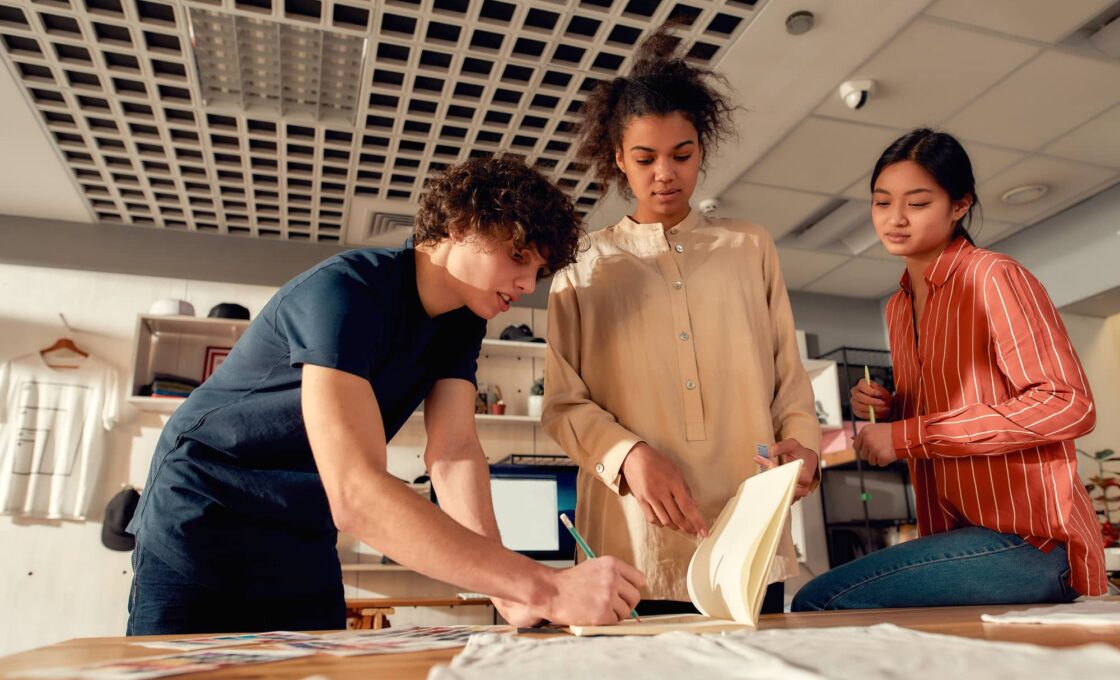 3. Eco-Friendly Options
According to this report, four in five people prefer doing business with brands that swear by environmental sustainability. You, too, can reap dividends from this group of eco-conscious customers.
How about you decide to offer t-shirts made from organic cotton or recycled materials, for example? Why? Because your customers care about the planet as much as they care about style.
And when they wear your shirt, they're not just showing off your logo; they're also showing the world just how committed you are to the environment. It's a win-win. You get a t-shirt that feels good, looks great, and speaks to the hearts of the environmentally conscious crowd.
Plus, you're painting your brand in shades of green integrity. This isn't just fashion; it's fashion with a purpose. And in today's world, that kind of branding resonates and echoes around.
4. Interactive Designs
So, your business, Fresh Bites Deli, plans to launch a new sandwich line, right? How would it go if you got your team wearing t-shirts with not just a catchy slogan but a cleverly placed QR code on the sleeve?
Customers scan it, and voilà – they're carried away to a secret menu page offering an exclusive discount. This chess move is about taking engagement beyond the fabric and making every scan a visit into what makes your brand special.
By integrating interactive elements like QR codes, you're not just outfitting your team; you're equipping them with a tool that invites interaction, curiosity, and, most importantly, engagement.
5. Collaboration With Local Artists
Everyone swears that Dorothy is the latest Picasso on the block. Your rapper friend is dropping more bars than a clumsy jailer. How about you get them on board with your brand t-shirts?
By collaborating with local artists, you're not just adding a dash of creativity to your apparel; you're weaving the essence of your community into every fiber. This partnership goes beyond mere business. It's about capturing the local spirit, the unique flavor of your neighborhood, and distilling it into wearable art.
This approach can amplify your brand and nurture local talent, all in one blow. It can also create a symbiotic relationship where art meets commerce, community meets creativity.
6. Limited Edition Releases
Picture this: you're the boss of "Vintage Vibes," a boutique with a flair for the retro. You decide to launch a line of limited edition t-shirts, each featuring iconic symbols from the 80s. The catch? Only a hundred pieces per design.
As word spreads, anticipation builds. It's a frenzy on launch day, with eager customers lining up, both virtually and in reality, to get their hands on these exclusive pieces.
This is all about offering something unique that can't be found anywhere else, something that screams, "I'm one of the lucky few." This strategy can pull in your audience, generate buzz, and, yes, drive those immediate purchases.
After all, who doesn't love the thrill of owning something rare and envied?
7. Incorporate Social Media
Picture this: Cynthia, Jeff, Byron, and the whole gang proudly sporting your t-shirts. They can pretty much become your brand's ambassadors with every selfie and post. It's like having a mobile billboard, but way cooler.
With data from Search Engine Journal showing that about 60% of the world's on social media, this is an approach you might want to consider. Here's a fun way to kick things off: launch a hashtag campaign.
Encourage your customers to flaunt their style in your t-shirts and share it online. Think "#JavaJiveStyles" for your coffee shop or "#TechTrendsetters" for your tech firm.
And to spice things up, why not throw in a monthly contest? Offer a free latte or a discount on their next tech purchase for the best post. It's a win-win; your customers get to show off their best looks, and you get authentic, engaging content that resonates with your audience.
8. Branding Beyond Logo
Let's take the example of a brand: "Green Earth Gardening". Instead of a glaring logo, their design's got tees with a whimsical tree and the words "Grow with Us." It's subtle, yet it speaks volumes about their commitment to growth and nature.
Your brand's message should be more than just a name; it should tell a story, create a connection. It's like that local bakery, "Sweet Rise," whose shirts display a rising sun made of pastry swirls, accompanied by "Baking Happiness." No logo is needed, yet you know exactly who they are and what they stand for.
This is your chance to be more than a name on a shirt. Be a story that people wear, a statement they make. And remember, a cleverly integrated message can turn a simple t-shirt into a conversation starter.
9. Size And Fit Variety
Think about the last time you snagged a free t-shirt at an event, only to find it didn't quite fit. Frustrating, right? It's a common story and one that highlights the importance of size and fit variety in t-shirt branding.
Your brand's message should be accessible to everyone, not just those who fit into a standard size. Embracing a range of sizes means embracing inclusivity, a core value that speaks volumes about your brand.
So, when planning your next t-shirt campaign, remember: offering a variety of sizes isn't just good practice; it's a powerful statement that your brand is for everyone.
10. Event-Specific Designs
Have you ever been to a local music festival, where amidst the sea of melodies and merriment, that one t-shirt catches your eye? It's not just any t-shirt; it's a vibrant canvas celebrating the event, perhaps with a witty line like "Rockin' the Fest" or "Jazz in my Steps."
You can take up that inspiration and use it in your business too. Consider releasing a limited edition tee for the upcoming "River City Jazz Festival." It's a hit. Janice and fellow jazz enthusiasts have done them and immediately become walking billboards for your brand.
This isn't just about capitalizing on an event; it's about embedding your brand into the fabric of the community's most cherished moments. So, why not make your brand a part of their celebration?
11. Innovative Packaging
Do you know those unboxing videos that go viral where the excitement's as much about the packaging as it is about the product? That's the magic we're aiming for.
Your customer receives a sleek, custom-branded tube. Inside, snug and perfect is your T-shirt. And the best part? This tube isn't destined for the bin. It's a poster holder, a keepsake, a reminder of your brand's creativity and attention to detail.
This packaging doesn't just protect; it promotes and impresses. It's your brand stepping out of the box, quite literally. So, when you think of packaging, think beyond the traditional. Think innovative, reusable, and memorable. That's how you make your mark, not just with your T-shirt but with every layer of your customer's experience.
12. Incentives For Repeat Customers
You're running "ComfyCotton," a boutique with a flair for fashion. What if your regulars could unlock exclusive t-shirt designs every time they shop? That's where incentives for repeat customers come in.
Imagine offering your devoted clientele a special edition tee, perhaps with a cheeky slogan like "Repeat Offender" for your most frequent shoppers. Each special design or discount isn't just a thank you; it's an invitation to be part of an exclusive club.
By doing this, you're not just retaining customers; you're empowering them to be ambassadors of your brand. They're walking, talking billboards, showcasing your brand's commitment to its loyal fan base.
Start Designing Today
Well, there you have it. These top tips can go a long way in shaping the T-shirt branding experience both for you and your customers. If you feel convinced by what you've read, it's about time you got started. Reach out to the who's who in t-shirt branding, talk to those with wizard-level experience in marketing, and get that campaign on the road. Get it right, and your business will never be the same again.